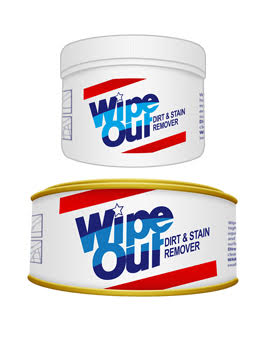 WHY USE Wipe-Out?

Perfect for: Electronic Devices,
Office Equipment, Household Appliances,
Leatherette Goods, Plastics, Metals, Nickel & Brass
TYPE: Wipe-Out is a gel-like, creamy-white, water emulsified compound containing lanolin oil which acts as a smoothening agent and skin conditioner. It is effective in removing dirt, stain, and grease but does not irritate skin because it containes no harmful ingredients.
USE: It is a general purpose household cleaner which effectively removes dirt, stain, and grease from the following items: Modern Electronic Devices, Office Equipments, Household Appliances, Leatherette Goods (Shoes, Bags and Upholstery), Plastics, Metals, Nickel and Brass.
APPLICATION PROCEDURE: Apply a small omount over dirty, stained or greased surfaces. Rub clean with dry cloth or tissue paper. Repeat if necessary.
ANALYSIS:
Deodorized Aliphatic Solvent 37% •
Lanolin 3.9% • Polyoxythylene
Nonyl Phenyl Ether 15.1% • 0.2%
PACKAGING
250 grams can(24 pcs/ctn)
145 grams (36 pcs/ctn)